January 11, 2013
This commentary is a reprint of an original written and published in 2010 by Rabbi Charles Simon.

Parashat Va-era
Rosh Hodesh Sh'vat
This morning is Rosh Hodesh Sh'vat and a special haftarah is read.
Rosh Hodesh Isaiah 66:1-24
The haftarah for Shabbat Rosh Hodesh is taken from the final chapter of the book of Isaiah. Its connection to Isaiah chapter one is indicative of an editor's work but that will not be addressed in this d'rash. The haftarah was chosen to be read on Rosh Hodesh as a result of a quote in line twenty-three. And new moon after new moon, and Sabbath after Sabbath, All flesh shall come to worship me.

The haftarah is a collection of diverse prophecies, judgments and salvation from a late selection of the Book of Isaiah. The reference to the building of the new Temple (66:1) reflects the concern of those living in the period immediately following Cyrus the Mede (538 BCE) granting permission to the Judean exiles in Babylon to return to our homeland. We find references to the discussions of how the Temple should be rebuilt some eighteen years later in the book of Haggai.
The tone of the text changes in verse 18 and focuses on an ingathering of all the exiles. It is important for us to realize that Isaiah's vision of an ingathering of exiles and bringing everyone to worship God is a much broader and inclusive vision than that of any other prophet. Isaiah's final vision includes non-Jews, some of whom God will take and make priests. This represents a radical diversion from the Torah, which is much more restrictive. Isaiah in chapter 56 states that if eunuchs or foreigners keep the Sabbath and hold fast to the divine commandment then they shall be accepted into the Temple mount and will be able to offer sacrifices on the altar.

Let not the foreigner say, Who has attached himself to the Lord, The Lord will keep me apart from His people....As for the eunuchs who keep My Sabbaths, who have chosen what I desire and hold fast to My covenant, I will give them, in MY house and within My walls, a monument. Their burnt offerings shall be welcome on my altar. Is. 56-3-7
The Haftarah for Rosh Hodesh raises the major challenge for the Jew in modernity today. It also challenges us as members of families to consider on a regular basis the non-Jew who seek to be live Jewishly. How we treat the supportive non-Jewish spouse is the litmus test of our survival as a modern, ever growing people. The prophet openly violates tradition and says they will be welcome at "My Altar"-- a much more far reaching approach to than where most of us stand today. The prophet challenges us to consider and to rethink where the supportive non-Jewish spouse should stand and what role they should play in our future.
Va-era
Ezekiel 28:25-29:21
The Haftarah for Va-era is taken from Ezekiel's' oracles against foreign nations (Chapters 25-32) and consists of two prophecies. The first one is delivered against Egypt during the last days of the first temple (586 B.C.E.) and the second informs us that it is permissible to plunder Egypt's wealth. The connection between the Torah and Haftarah reading is the manner in which God educates the Egyptians so they come to realize God's supremacy. One wouldn't call God's method gentle.
Egypt and Pharaoh are compared to a mythological sea serpent that dwells in and rules over the Nile. God will place a hook in its mouth (Egypt and Pharoah) and toss them into the desert. Eventually after forty years God will restore them as a nation in a much lessened form. Just as Israel had to wander for forty years in order to enter the Promised Land; Egypt will also need to be exiled for a similar amount of time before they are allowed to return. The mythological battle in Exodus is paralleled by the prophecy of Ezekiel. The Haftarah stresses a theme that is also present in Jeremiah. Babylon will be the instrument of our return and alliances with Egypt should not be trusted.
Why is it that our prophets consistently warn us not to engage and ally with Egypt and what implications could that have for us today? Could it be that the culture of Egypt was not compatible with the culture of Israel? Could it be that the culture of Babylon and Assyria were more reliable and therefore more worthy of our trust?
Consider: Have you ever tried to establish friendships or business relations with certain people or specific companies and found that you were too different, too dissimilar to be compatible? Do you remember how difficult it always was for a number of high school students to fit in with the "cool" groups and how they felt when they were rejected? Have you ever worked really hard to be accepted by a family member only to realize that it was never going to work?
That is how our prophets understood Israel's relationship with Egypt. It wouldn't work until they were greatly humbled and accepted certain basic values, in this case, God. At certain times some of our Kings and nobles sought alliances with Egypt and hoped they could become a serious ally. It never worked. One of the lessons of this morning's Haftarah is that sometimes some things will only work after a tremendous culture change occurs. In this instance the change must come from Egypt, from the other. In some instances, it must come from us.

This week's Haftarah commentary was written by
Rabbi Charles Simon, Executive Director of the FJMC and author of
"Building A Successful Volunteer Culture: Finding Meaning in Service in the Jewish Community" Jewish Lights Publishing, and "Understanding the Haftarot: Everyperson's Guide."
Recognizing our Maasim Tovim
Doer of Good Deeds Honorees
J Harold Nissen
Hudson Valley Region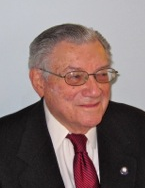 Harold's start in Men's Clubs is a common story. In 1958 while reading the New York Times sitting in the Synagogue Library and waiting to car pool one of his daughters home from Hebrew school, he was invited to join a group of men who were having their monthly Sunday morning breakfast meeting. This was Temple Israel Center's monthly Brotherhood's Breakfast meeting at which the men got together and discussed various projects that were being done for the men and TIC. Within time, Harold became active and took on various Brotherhood projects for Brotherhood. Harold became active in the New York Metropolitan Region in the 1960's and went to his first National Convention in 1969 when Morton Tabas was National President who convinced Harold to take a more active role. Harold became involved with Leadership Training Fellowship or as it was called LTF. Harold was very interested in the work of LTF because it was NFJMC's involvement with education of our youth. Harold continued to work closely with Rabbi Joel S. Geffen, Z"l and other Regional members in the LTF program. Rabbi Geffen took a great interest in preparing new members to be leaders in FJMC. As a result of Harold's close relationship with Rabbi Geffen, he was instrumental, during his presidency, to use the interest from the Geffen Fund to enhance the training programs in what is now the annual LDI (Leadership Development Institute).
Harold became First Vice-President of the New York Metropolitan Region in 1973 and shortly became acting President; he was elected president serving two terms from 1974 to 1976. While active in the Region, many new clubs became members of the New York Metropolitan Region. Harold always continued to work in the Region even though his activities had started on the National level with LTF. He always felt the Region is one of the most important parts -the heart- of FJMC, and that the Regional officers are extremely important assets. Harold was a previous Awardee of the Ma'asim Tovim Award while active in the New York Metropolitan Region, as it was then called with a change of name to New York Metro. Harold's activities continued with New York Metro until the formation of the Hudson Valley Region.
After serving as President of the New York Metropolitan Region, Harold was placed on the Executive Committee. As a new member of the Executive Committee, he began to work with Past President Arthur Bruckman, Z"l to secure two publications for the FJMC, SHALOM ALEICHEM, our first publication, intended to teach the Friday night service and AYN KELOHEYNU, our second publication, to teach our Saturday morning service. Both publications were prepared by the late Rabbi Noah Golinkin, Z'L. These books started The Art of Jewish Living which morphed into the Hebrew Literacy Campaign and in turn morphed into our other numerous educational publications. In the late 1970's and early 1980's Harold became involved with what is now generally known as the ÒYELLOW CANDLE PROGRAM" (one of our trademarks). Harold at that time used to go to Boston quite often and met a young member of FJMC, Joseph Winokur, Z"l. At one of their get togethers, Joe Winokur told Harold that he saw a candle at one of the FJMC conventions and wanted to make a memorial for his father, and possibly tie it in with the Holocaust. Harold and Joe worked together for quite some time to develop a prototype and a program for this purpose. In the mid 1980's, the YELLOW CANDLE PROGRAM was adopted under Dr. Jerry Agrest's watch. FJMC then obtained trademark protection; it is one of our strongest programs and carefully used because it helps our Youth to remember the holocaust. . . .
To continue reading this article, click here.
New Publications
Leadership - Innovation - Community
Understanding the Haftarot:

An Everyperson's Guide
In this stimulating and unusual book Rabbi Charles Simon, Executive Director of FJMC, provides the reader with the context to understand how the haftarot were organized, why they might have been selected and suggests reasons for finding meaning and value.
You can purchase it a number of ways.


Intermarriage: Concepts & Strategies for Families and Synagogue Leaders
If family members and community leaders wish to become engaged in the process of Keruv they often need to ask, "Does Keruv have an ideology and theology? And if so what is it?" Then they need to learn how to respond to intermarriage from the perspective of both gender and religion. This publication reflects the most current thinking about intermarriage to date and attempts to provide family members and community leaders with the needed understanding to effectively work with intermarrieds or potential intermarrieds.
You can purchase it a number of ways:
---
Yad Shel Chai
The Yad Shel Chai program was created by an FJMC club in Jacksonville, FL. The program is designed to provide an incentive for Torah readers to get a personalized Yad with their Hebrew name. Help create a synagogue culture where young people or your Men's Club members who regularly read Torah at Shabbat and minyan services can be recognized for their accomplishments. The program encourages Torah Study, helps increase the number of Torah readers, and provides significant long term benefits to the participant and congregation for minimal cost.

The beautiful silver-plated "fjmc" baubles to create a connection to your club. The silver plated beaded Yad can be personalized with the reader's name. It is 22.5cm long (8 7/8")

The Yad Shel Chai program is extremely simple to implement and manage. Work with your Rabbi and School Administrator to encourage teenagers to read Torah. Work with the Ritual Director to implement for the kids and adults alike. You can easily track the portions read and plan your rewards.

The original program envisions that when a student approaches 18 readings, the organizers order a Yad via the order form on the Yad Shel Chai page. The cost is $85 per Yad, plus $15 shipping and handling (regardless of how many you order). If you have any questions, please email YadShelChai@fjmc.org.
---
Help the Unraveller begin our 4th year!
Sponsor the Unraveller now!
Contact FJMC Sponsorship Chairman
Tom Sudow
for details and to reserve your week!