The FJMC's Sefer Haftarah is at Congregation Agudas Achim, Columbus, OH.

Next week it will be at Tifereth Israel, Columbus, Ohio.
---
This week's Unraveller is not yet sponsored.
---
This week's portions in the FJMC Sefer Haftarah scroll, the travelling haftarah scroll that visits a different synagogue each week and contains all of the haftarot, were sponsored by Temple Emeth, Chestnut Hill, MA (A) and Temple Emunah, Lexington, MA (S).
---
FJMC New England Region
Hebrew Word Initiative



sonenu
Our enemies
Each week, a set of 5 words are chosen by volunteers from the parsha ha'shavoa.

---
Did you know that the FJMC offers individual Haftarah parshiyot suitable for framing? Click here for the PDF
---
Use this link when shopping at
All purchases via our Amazon links provide critical support to the FJMC, at no additional cost to you!
---
Visit the FJMC website for upcoming events!
---
Editorial Board
Rabbi Wayne Allen
Rabbi Leonard S. Berkowitz
Rabbi Paul Drazen
Dr Rela Mintz Geffen
Hazzan Alberto Mizrahi
Rabbi Stephan Parnes

Newsletter Chairmen
David Goldis
Bob Watts

---
Interested in other Masorti weekly newsletters and commentaries? Click here
---
Comments?
Looking for an Unraveller?
Sign up here for free home delivery!
Click here to unsubscribe.
WORLD WIDE WRAP 2013

The FJMC festival of tefillin!
The World Wide Wrap (WWW), sponsored by the Federation of Jewish Men's Clubs (FJMC), held annually on the morning of Super Bowl Sunday. The WWW program is designed to introduce and re-introduce Jewish men [and women] to the significance of "laying" Tefillin.
Register your group today at www.worldwidewrap.org
World Wide Wrap is Sunday, February 3, 2013
The Bar Mitzvah Wrap!
FJMC
Yellow Candles
FJMC Yom Hashoah Yellow Candles website
Order now, early bird discounts in effect

Registration now open!
Conservative/Masorti Men at the Crossroads: Responding to a Changing World
July 24-28, 2013. Boston, Massachusetts.
Join the FJMC Convention at Fenway Park for the Red Sox and Tampa Bay Rays!
We have reserved only 100 seats at sold-out Fenway for our Tuesday evening pre-convention program. You must register for convention to get one of these tickets, and they are going fast!!!
Be sure to include the Red Sox when you register for Convention!
Options and details for Tuesday night are explained on registration page. Register early for the best choices!
---
January 4, 2013
Judaism must be maximal.
We continue this week the commentary by Prof. Mel Scult on the writings of Mordecai M. Kaplan (1881-1983), who was ordained at JTS and served as a member of its faculty for over fifty years. He is also the founder of Reconstructionism.
Kaplan makes the very interesting point that before the modern period being a Jew filled up much of one's life in the daily round of living. In our time it does not. As a consequence, we must make a special effort in terms of ritual that whatever our ritual regimen is to be, it must be maximal. Kaplan seems to care less about the details than about this matter of plenitude as he calls it.
Kaplan is known primarily for his concept of Judaism as a Civilization. He obviously meant that our Judaism must enter every aspect of the everyday. For Kaplan, the concept of civilization included what we usually refer to as culture. Some think that civilization refers only to " knives and forks" and thus has a very elementary meaning. For Kaplan, civilization included the mundane but also the higher aspects of human life,- the literature, art , music and other forms of creativity.
Thus our Judaism may be the vehicle for our creativity but it also might be the mode in which we face the day when we arise in the morning and say the " modeh ani" i.e. that we are thankful that our souls and minds have been restored and that we are ready to face another day with gratitude.
January 2, 1945, vol 13c.
Being a Jew to the maximum means refraining from the tendency to reduce Judaism to a way of speaking without acting. It has been proposed to meet the danger of Judaism's being crowded out by spiritualizing Judaism into abstract doctrines about God and man to a point where it no longer occupies any space. But that proposal ends up in spiriting Judaism away altogether. The position taken by the Seminary has always been that Judaism must be lived with all the senses and not only with our common sense. It must be audible visible and tangible. Hence the maximum of ritual observance is advocated not so much because of authoritative rule as because of the feeling that Jewish life to have saving quality must be abundant and not thin and ghostlike.

Mel Scult, Kaplan's biographer, is professor emeritus from the City University and the editor of selections from Kaplan's twenty–seven volume diary entitled "Communings of the Spirit."

Recognizing our Maasim Tovim
Doer of Good Deeds Honorees
Florida - Marvin Krutchik
Florida Region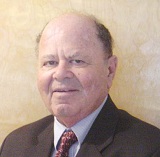 Marvin was born in Brooklyn N.Y. He met his wife Elaine while attending the University Of Toledo where they both received their degrees. They have three sons, Ed, Brian, and Scott. The family moved from New York and has lived in Florida for the past thirty four years. The family grew at a rapid pace when his sons married and gave him six grandchildren, Alex, Brittany, Ethan, Rachel, Joshua, and Tova. His son Ed gave Marvin the gift of life by donating a kidney to him seventeen years ago. They had been married for 45 years when Marvin unexpectedly passed away on April 26, 2012.
Marvin was a Certified Public Accountant and a member of the Florida Institute of Certified Public Accountants, The New York State Society of Certified Public Accountants and the American Institute of Certified Public Accountants. Marvin had spent most of his working career in private industry. He had served as Vice President and Controller for various corporations.
Marvin was a very enthusiastic sports fan having season tickets to both the Marlins and the Dolphins. He spent many years coaching youth baseball and basketball teams. Upon moving to Florida, he saw the need for kids to play baseball all year round. He helped organize a winter baseball league for boys aged ten to thirteen.
Marvin had been a member of Beth Torah Benny Rok Campus since moving to Florida. His devotion to Israel and Judaism was always a big part of his life. The family has visited Israel several times. Marvin and his wife went on the ŇMarch of the LivingÓ as chaperones for high school students. For the last fourteen years Marvin had been a daily participant at the morning minyan . . .
To continue reading this article, click here.
New Publications
Leadership - Innovation - Community
Understanding the Haftarot:

An Everyperson's Guide
In this stimulating and unusual book Rabbi Charles Simon, Executive Director of FJMC, provides the reader with the context to understand how the haftarot were organized, why they might have been selected and suggests reasons for finding meaning and value.
You can purchase it a number of ways.


Intermarriage: Concepts & Strategies for Families and Synagogue Leaders
If family members and community leaders wish to become engaged in the process of Keruv they often need to ask, "Does Keruv have an ideology and theology? And if so what is it?" Then they need to learn how to respond to intermarriage from the perspective of both gender and religion. This publication reflects the most current thinking about intermarriage to date and attempts to provide family members and community leaders with the needed understanding to effectively work with intermarrieds or potential intermarrieds.
You can purchase it a number of ways:
---
Yad Shel Chai
The Yad Shel Chai program was created by an FJMC club in Jacksonville, FL. The program is designed to provide an incentive for Torah readers to get a personalized Yad with their Hebrew name. Help create a synagogue culture where young people or your Men's Club members who regularly read Torah at Shabbat and minyan services can be recognized for their accomplishments. The program encourages Torah Study, helps increase the number of Torah readers, and provides significant long term benefits to the participant and congregation for minimal cost.

The beautiful silver-plated "fjmc" baubles to create a connection to your club. The silver plated beaded Yad can be personalized with the reader's name. It is 22.5cm long (8 7/8")

The Yad Shel Chai program is extremely simple to implement and manage. Work with your Rabbi and School Administrator to encourage teenagers to read Torah. Work with the Ritual Director to implement for the kids and adults alike. You can easily track the portions read and plan your rewards.

The original program envisions that when a student approaches 18 readings, the organizers order a Yad via the order form on the Yad Shel Chai page. The cost is $85 per Yad, plus $15 shipping and handling (regardless of how many you order). If you have any questions, please email YadShelChai@fjmc.org.
---
Help the Unraveller begin our 4th year!
Sponsor the Unraveller now!
Contact FJMC Sponsorship Chairman
Tom Sudow
for details and to reserve your week!