February 1, 2013
This commentary is a reprint of an original written and published in 2010 by Rabbi Charles Simon.

Haftarah for Parshat Yitro
Isaiah 6:1 - 7:6;& Isaiah 9:5 - 6
This is the first Haftarah in the Haftarah cycle that is been composed of selections from three distinct chapters. The first chapter Isaiah 6:1 - 4 records a vision Isaiah had in 733 BCE, "the year that Uzziah died." The second section, chapter 7, took place two years earlier, in 735 BCE, "in the reign of Ahaz." It is composed of two parts: Chapter 7:1 - 6 and Chapter 9:5 - 6.
In Chapter 6, Isaiah has a vision of the Lord on a heavenly throne surrounded by seraphim, angelic beings who mostly sang songs and praised God. The word seraph appears in the singular and the plural in the Bible in two distinct contexts. In the books of Numbers (21:6) and Deuteronomy (8:15) it refers to a species of serpent. God sends seraph - snakes to punish the complaining Israelites. Later, the Lord tells Moses to make a seraph and place it on a standard. Moses makes a copper serpent snake. In Isaiah 14:29 the seraph flies; it is a serpent snake.
The seraph in this morning's Haftarah has to be different. These seraphim are semi - divine beings with three pairs of wings; they stand, fly and proclaim God's holiness before God's throne. While I am certain the seraphim worked very hard at their jobs and did it excellently, what is most relevant for us is verse 3, where they call out, Holy, Holy, Holy the Lord of Hosts, the whole earth is filled with his glory.
That's correct, verse 3 is the first sentence of the Kedushah! The core of the Kedushah consists of three biblical passages: the one from this morning's Haftarah; a second from Ezekiel 3:12, Blessed be the glory of the Lord from his place; and a third from Psalms 146:10 The Lord will reign for ever and ever, Thy God, O Zion, unto all generations, Hallelujah.
The Kedushah has served as a key prayer in our tradition since early rabbinic times. It is customary for people to stand on their toes three times, emulating the seraphic beings on high when they recite this verse. Some people choose to focus their energy in three ascending places when they perform these actions. As they recite the first "Kadosh" they focus on their center, their stomach. When they recite the second "Kadosh," they raise their focus to their heart, and finally, with the third "Kadosh," to their brain. The Kedushah, the prayer of holiness, is a tool to help us focus when we pray.
Isaiah's vision terrifies him. A seraph flies over him and, by touching his lips with hot coals, purifies him. Isaiah then hears the voice of the Lord asking for a volunteer to tell the people of their doom. The prophet volunteers and asks how long the message of doom must last. He is told that it will end with the destruction and exile of Judah. The prophet is also told that the destruction of Judah (which took place in 586 BCE) will not be a total destruction because a remnant shall be saved and become the seed for a renewed people. Chapters 6 and 9 of Isaiah have traditionally served as a source for mainstream Christianity and, most recently, for Hebrew Christians who call themselves Jews for Jesus.
Chapter 7 begins with a description of an alliance between the Ephraimites (the Northern Kingdom) and Syria that threatens Jerusalem (the Southern Kingdom). The King and the people are frightened, and the prophet urges them to be calm. AND THEN IT SKIPS TO CHAPTER 9.
THIS IS REALLY IMPORTANT. Music lovers, do you remember Handel's Messiah? This is the source! Handel explained this source the way his religious tradition had taught him. A child, a messianic child, will be born, "And [to quote Handel] his name shall be called, wonderful, counselor, the mighty God, the everlasting father, the Prince of Peace.
Isaiah was proclaiming the birth of King Hezekiah, who was to be a great King. Our Christian neighbors saw this as a proof text for a man who would be born five hundred years later.
Our rabbis who selected this Haftarah understood that when the prophets spoke about individuals, they prophesied in the here and now. They knew that Isaiah was referring to the birth of Hezekiah. Our neighbors didn't - or couldn't, for a variety of complicated political reasons - understand. For us, the Haftarah predicts both the rejuvenation of a people at some future time and the birth of a charismatic leader who would resolve a contemporary situation.
How can the message embodied in these complicated issues reach out to us in more than just a historical way? It could begin to provide us with a link to the body language of prayer. Elevating ourselves three times when we recite the word Kadosh is a key to understanding that there is a body language of prayer that, if we so wish, we can reclaim. Consider how many physical gestures and movements are retained in our prayer services. We stand, sit, bow, cover our eyes, and take steps forward and backward, to mention just a few. These activities are not isolated but part of the choreography of prayer. Ask your rabbi about it.
Isaiah also offers us a message of hope, even though there are times when we think that we - whether as individuals, as members of families, or as a people - have arrived at our darkest hour.
Finally, this Haftarah demonstrates how one text can be interpreted in dramatically different ways. This is an important lesson to bear in mind when we communicate with those around us.

This week's Haftarah commentary was written by
Rabbi Charles Simon, Executive Director of the FJMC and author of
"Building A Successful Volunteer Culture: Finding Meaning in Service in the Jewish Community" Jewish Lights Publishing, and "Understanding the Haftarot: Everyperson's Guide."
Recognizing our Maasim Tovim
Doer of Good Deeds Honorees
Hal Baker


Michigan Region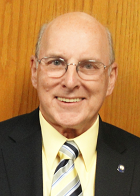 Hal Baker and his family join Congregation Ahavas Achim in Southfield, Michigan in 1960. He became a charter member of the congregation's "Mr. & Mrs. Club" in 1965 and twice served as its President. Following the merger of Ahavas Achim and Beth Aaron, Hal continued to be active in the new congregation, Beth Achim, and served as Men's club President from 1984 to 1987 and again from 1994 to 1995.
When Beth Achim and Adat Shalom merged, Hal continued his leadership within the Men's Club, becoming President of the Men's Club from 2002 to 2005. He has also contributed to the Federation of Jewish Men's Clubs on a regional level, serving as Vice-President of the Michigan Region for the past four years.
Hal has chaired the Men's Club Yom Hashoah Yellow Candle Program at Beth Achim and at Adat Shalom since 1965. He has also co-chaired the Synagogue's annual Chanukah Sing-a-Long program for the past 30 years, which takes Men's Club members and religious school students to senior residences to bring music and Chanukah cheer to the elderly. . .
To continue reading this article, click here.
New Publications
Leadership - Innovation - Community
Understanding the Haftarot:

An Everyperson's Guide
In this stimulating and unusual book Rabbi Charles Simon, Executive Director of FJMC, provides the reader with the context to understand how the haftarot were organized, why they might have been selected and suggests reasons for finding meaning and value.
You can purchase it a number of ways.


Intermarriage: Concepts & Strategies for Families and Synagogue Leaders
If family members and community leaders wish to become engaged in the process of Keruv they often need to ask, "Does Keruv have an ideology and theology? And if so what is it?" Then they need to learn how to respond to intermarriage from the perspective of both gender and religion. This publication reflects the most current thinking about intermarriage to date and attempts to provide family members and community leaders with the needed understanding to effectively work with intermarrieds or potential intermarrieds.
You can purchase it a number of ways:
---
Yad Shel Chai
The Yad Shel Chai program was created by an FJMC club in Jacksonville, FL. The program is designed to provide an incentive for Torah readers to get a personalized Yad with their Hebrew name. Help create a synagogue culture where young people or your Men's Club members who regularly read Torah at Shabbat and minyan services can be recognized for their accomplishments. The program encourages Torah Study, helps increase the number of Torah readers, and provides significant long term benefits to the participant and congregation for minimal cost.

The beautiful silver-plated "fjmc" baubles to create a connection to your club. The silver plated beaded Yad can be personalized with the reader's name. It is 22.5cm long (8 7/8")

The Yad Shel Chai program is extremely simple to implement and manage. Work with your Rabbi and School Administrator to encourage teenagers to read Torah. Work with the Ritual Director to implement for the kids and adults alike. You can easily track the portions read and plan your rewards.

The original program envisions that when a student approaches 18 readings, the organizers order a Yad via the order form on the Yad Shel Chai page. The cost is $85 per Yad, plus $15 shipping and handling (regardless of how many you order). If you have any questions, please email YadShelChai@fjmc.org.
---
Help the Unraveller begin our 4th year!
Sponsor the Unraveller now!
Contact FJMC Sponsorship Chairman
Tom Sudow
for details and to reserve your week!